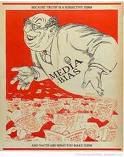 Well the 99ers got into the mainstream propaganda on Saturday thanks in part to a FOX propaganda piece designed to belittle the deplorable conditions we 99ers find ourselves in.  Like the piece on 60 Minutes, it was designed to show the 99ers as a people who are not really that bad off and completely to blame for our plight as we were not fiscally responsible with the boondoggle we received from our unemployment benefits.
The person being interviewed, one Leslie Jacobs, is perfect for a hit piece on 99ers, obese to a fault with a holier than thou attitude.  She indicated that after a year she came to the conclusion that she needed to "bank" more of her unemployment monies. 

She had to be in the top 1% for unemployment benefits.  I know my unemployment wouldn't even pay my bills.  She then said 99ers needed to budget.  To which I reply, "Budget what?"  In living on food stamps, I know I have lost weight every month.  There is no way this cow is existing on food stamps. 
She then went on to say that she finally decided to put her efforts towards her side business.  This woman is not, was not, and will never be a 99er in the sense that the majority of us are.  She was put in the mainstream propaganda for no other purpose than to bolster the lie of 8.8% unemployment number and put forth the preposterous illusion that things aren't really that bad out here.
Of course FOX News will never interview a real 99er in a tent city, on the street, or about to be put out on the street.  In fact they would probably not even let one of us in the building as our worn and holy clothes would not be acceptable for their decor.   The propagandists on FOX will not know our anger until we are dragging them away in hand cuffs to be prosecuted as the traitors they are.
Also on Saturday on FOX, I heard that forked tongue hypocrite, Huckabee, saying that poor people were overweight.  You realize these Neo-Cons purporting themselves as Tea Party advocates are purposing cutting food stamps.  And hell, why not?  The economy is doing great.  If you have any doubts just watch FOX, they will tell you.
The fact is food stamps make up about 2.7% of our entire budget.  There are 40 million people in the United States who are receiving food stamps.  Many serving in our military are among them.  And these sadists like Huckabee and company are actually purposing taking food out of poor children's mouths to pay for further tax cuts and deregulation for the rich elite. 
You Tea Partiers out there tell me, is this what you are about and what you support?  You claim to be Christians, so what's the deal?  Do you believe Jesus is going to descend out of the heavens and feed the multitudes of the poor with fishes and loaves?  Or is it your attitude that those who have become impoverished via the gluttonous excesses of the rich elite should be left to starve to death?  If so, be advised.  Whether you can get it through your little pea brains or not, you are next.
Ali Velshi of CNN also spoke of the 99ers on Saturday.  Ali has spoken out in the past for the 99ers and on Saturday he did so again.  Though he spoke the truth in identifying us as many who are being forgotten, he then turned around with all his vigor and perpetuated and supported the lie of 8.8% unemployment number.  This man knows the truth and now can only be considered another propagandist. 
To Ali I say, "We 99ers are not going to be separated from this society which we built.  The plan to make us all recipients of reduced welfare for the rest of our lives is a no-sale.  We want our living wage jobs back and we want them yesterday." 
Ali and company then went on to talk about the expanding economies in India and China, putting this scenario forth as a good thing for U.S. workers.  He put forth the notion that these foreign economies would create industry in America and that with their new found wealth they will want to buy new luxury items.  His guests then went on to clarify in saying the luxury we will be providing will be in serving them as rich tourists in our country.
I tell you what, Ali, you foreigner loving son of a bitch, I will never serve an Indian or a Chinaman in my country.  The only service you and your foreign buddies are going to get from me is in physically throwing your treasonous asses on a deportation barge bound for Somalia.
99ers be aware.  The mainstream propagandists put people like Ali and Glenn Beck out there to put forth the illusion that they somehow have a connection with us and then when the time is right, and while smiling in our faces, they drive the daggers in our backs. 
This being said I have to believe the 99ers out there are starting to make a little noise, otherwise we wouldn't have even been mentioned.
How many 99ers were out on the streets yesterday?  I live in a small town up in the mountains, so I went down in front of the community center, carrying a sign that says, "99ers – The Forgotten People."  I am well known in this town and many stopped to ask what the hell I was doing.  I received nothing but support.  I only marched for a half of an hour as that was all my old bones could stand, but at least by God I did something, as I am not going to just stand by and wait for somebody else to solve my problems for me. 
As I said before I believe we were heard.  The fact is they know our numbers.  What they do not fully comprehend yet is just to what lengths we are willing to go to achieve our goals. 
We have three weeks until Easter.  Who among the 99ers is going to step up and be one of those some bodies that finally achieve a tangible result?  Before you dismiss yourself from this chore, you had better take a moment and think long and hard about what is going on right now. 
The elite and their propagandists are at present pushing to put the issue of the 99ers into the past, even as we are starving and freezing to death in the present.  Build those crosses, build those platforms, get out in front of the churches on Easter and show the world the 99ers being crucified on the cross of corporate greed. 
And to anyone who tries to perpetuate the lie of economic recovery in your presence, shout them down using the truth and let them know they are next.
God bless the Republic, death to the international corporate mafia and their propagandists, we shall prevail.