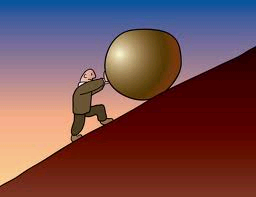 There have been a series of comments coming into our site from another 99er site identifying themselves as Displaced American Workers United.  When these commenters first appeared I took them to be genuinely concerned about those 99ers who feel they have reached the end of their rope.  This being the case I allowed them to promote their site on ours.  After which they began attacking our stance on reality, even going so far as to insult us.  Well we are not here in The Trenches because we allow others to walk on us and these socialist mental midgets from DAWU are no exception.
I put up and run From the Trenches World Report but it belongs to the 99ers that are making it a growing reality that is putting forth the most unexpected adversary to those who would see the 99ers swept under the rug. 

These socialist pukes at DAWU are trying to jump on the bandwagon and claim responsibility for getting the 99ers after the members of the sub-committee and causing an effect.  They purport to be on the inside.  I purport that it is insiders on the inside that have brought our country to ruin. 
I relish in the fact that the Congressional press secretaries, except for Barbara Lee's, refuse to speak to me because they are afraid of me, which is to say they are afraid of us, which is to say they are afraid of individual free thinking Americans.  The fact is they had better be afraid as they have committed outrages against us that they are going to answer for.
The 99ers on From the Trenches World Report represent a growing voting bloc that has no other purpose than to vote out those who have betrayed us.  Our enemies fear us because any one of us is the leader at any time a change in the situation shows a need.  We are unpredictable and refuse to be bated back into the false left-right paradigm.
If HR 589 is passed through some compromise it will not be because a bunch of socialists sit around sending emails to their non-representatives and singing Kumbaya in the candlelight.  It will be because they have become genuinely afraid of what we are becoming.
The Congress will recess next week so I think we can safely say that HR 589 is going to be pretty much a dead issue until Congress reconvenes March 1st. 
I tell each and every one of you reading this, if we start preparing to hang a 99er on a cross out in front of the church John Boehner will be attending for Easter Services, they will take notice.  And if we are forced to go through with the demonstration, we will see our numbers grow into an unstoppable army that they cannot ignore.
I believe From the Trenches World Report has the meanest 99ers in the country involved.  And the time has come when we need them all.  So come on the comments section, let them hear the truth of what the true patriotic 99ers are thinking.  Let them see our outrage and resolve.  Let them know that if they continue to ignore us they do so at their own peril.  And if the socialists try to infiltrate our site, we will shout them down and send them back into the shadows from whence they came.
God bless the Republic, death to the international corporate mafia, we shall prevail.
SIGN UP FOR THE NATIONWIDE RALLY!!
CHANGE YOUR PARTY AFFILIATION TO NON-PARTISAN!!
SEND IN DOSSIERS OF YOUR HOMETOWN CORPORATE MAFIA!!