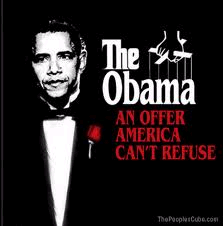 Barry the Rat was in El Salvador yesterday touching base with the mafia dons who control that area as we 99ers suffered through another day in hell.  Concerns about the constitutionality of the Libyan invasion were dismissed by the Obama administration, as their spokespeople put forth the assertion that Congressional approval was not needed, as the hit on Gaddafi had already been sanctioned by Big Lou Macaroni, chief enforcer for the Brooklyn branch of the New York mafia. 
Don't laugh what we see occurring on an international scale today is no different than the open violence displayed on the streets of New York and Chicago just eighty years ago.  The international corporate mafia run cartels do not even resemble governments anymore.  The corporations boldly brought their boards to Washington DC and took over our government. 

Now we must go to Washington DC, drag their sorry arses out in the street, arrest, try, convict, and punish them in such a harsh manner as to dissuade any like them in the future from ever trying anything like this again. 
This new war in Libya could never have been perpetrated except outside the law by outlaws.  If the matter had been brought before our Congress and even if by some stretch the invasion could have been found constitutional, I think it would have been a little hard to find funding for the operation, which I think is supposed to be required at this point.  Or maybe not, maybe that standard is just applied in reference to unemployment extensions.
If our Congress does not take immediate steps toward the impeachment of Barak Obama they, each and every one who does not at least try, have to be considered complicit to the act, which would make them traitors.  But what am I saying?  They are already traitors in a hundred different ways.
No, this nasty little war in Libya is going to go forward as planned. And if they want to invade one, two, three more countries they are going to do it; if the American people do not like it, tough shit.  If you think you are going to vote them out, well that is actually quite easy, but of course you will have to vote in another member of the mafia as your only choice to replace them. 
That is unless the American people pull their collective head out of their collective arse and see that we have, and have always had, the power to eliminate this blight that these mobsters represent by eliminating the monetary system that is creating the illusion of their power over us.
If Senator Ron Paul runs for president promising nothing else but to end the Federal Reserve, I'm going to vote for him.  I'm past hoping and praying for relief in any form.  All I want to do now is hurt the international corporate mafia any way I can.  And as their empire is built upon the illusion of air money, it would seem the logical place to attack.
We must continue to push for 99er recognition and the Easter Project.  And on April 2nd if you can, get out on the streets and make some noise, as we will never be recognized if we just continue weeping in the shadows.  It's time to pull out all the stops.
God bless the Republic, death to the international corporate mafia, we shall prevail.