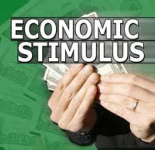 Many states are rejecting federal monies designated for unemployment benefits.  So why would any state refuse?  It is the same old game, only at a different level.  The socialists in the federal government want to give the money under the condition that the states change their individual laws to force the corporations to pay more into unemployment insurance.  The neo-cons want to divert these revenues and turn them into tax cuts for the corporations.  And the 99ers and all other unemployed are left sitting on the sidelines with no say in the matter.
There is a mad grab going on to obtain the last of the US's real assets before the great bankruptcy occurs and those who are unemployed and those who are going to become unemployed are a liability to the assertion that the middle class should simply acquiesce itself into a state of servitude.  In short these states who are under the control of the neo-cons are saying, "We will take federal monies in the form of tax cuts for the filthy rich, but will reject them if they are to help the unemployed."

Anyone who does not realize that corporate downsizing has not only not slowed but is accelerating is not looking past their television set.  Every day there are new attacks on the unions who set the wage standard.  And at the same time, tens of thousands more are joining the ranks of the unemployed and intensifying the competition for the precious few jobs left.  This is a cold, calculated, and diabolical strategy being implemented by the corporate elite and our government that represents them.
A new bill aims to make it more difficult for workers to take out 401k loans, but easier to pay them back. Sens. Herb Kohl (D) WI and Mike Enzi (R)WY introduced a bill on May 18 with provisions intended to prevent the leakage of savings from 401ks before retirement.  This news came out at the same time as word of a predicted 15% drop in the stock market.  This is government and corporation now presuming the authority to take control of private bank accounts holding United States citizen's private monies.
When the stock market crashed back in 2008 many a worker, not only lost their job but saw their 401ks wiped out.  But some were smart enough to see the crash for what it was and pull their money from their 401ks, ending up with more after taxes and penalties than the person who did not.  This time around it would seem the government and the corporations are going to try to take that option away.
Those of you in the middle class who are still working had better make some decisions and fast.  They are coming after your jobs and your retirement as sure as they took the 99ers two years ago.  And don't forget it was just a mere week ago that the de facto dictator, Timothy Geithner, announced that he was going to start confiscating government workers' pensions.
People, they are still coming at us full blast and are not going to stop until we stop them.  How much deprivation we all have to suffer before we say, "Enough!" is yet to be seen.  The bright side is our people across the spectrum are awake, united, and foiling every attempt to divide.
I know we are going to win this fight, but be advised, our enemies do also.  These people are not our fellow citizens.  They consider the world their country.  If they cannot rule us as slaves you can bet they are going to grab every bit of our wealth they can before they flee to their chateaus in Switzerland.
American people of the American race, every day we wait equates to less we are going to have to rebuild and more we are going to have to retrieve from around the world at an increasing level of danger.
God bless this Republic, death to the international corporate mafia, we shall prevail.