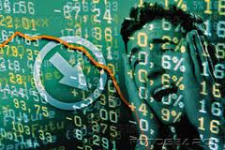 I find myself a little down today as the stock market plunged over 500 points yesterday and gold went down a little too.  What am I saying?  This shit doesn't have a thing to do with me.  I don't have any stocks and I sure as hell don't have any gold.  But then again I am stock as my birth certificate is traded on the world market daily.  I wonder if I am worth less, I don't feel worthless, but I guess equity is in the eye of the beholder.
Personally I have to look at this drop in the stock market for what it is and that is another great big chunk of our resources and wealth heading out of our country.  See the stock market is nothing more than a big money pump.  It sucks our wealth and resources in one side through elimination of our jobs and liquidation of our property, and then blows it out the other side to offshore accounts where the corporate profits are kept.

Think about it.  If one of us had a large sum of money, say $100,000, and we snuck it out of this country and put it in an off shore account to keep from paying taxes and we were found out, we would be put into a federal prison.  The corporations do it every day, without consequence.
They keep talking about dropping the corporate tax, well here is a bombshell for you, the corporations pay no goddamn taxes.  The reason they want to cut corporate taxes is because the corporations that have trillions in offshore accounts want their money back in the United States where the US military, we pay, for can guard and keep it safe for them.  You see if the natives start growing restless in these foreign countries where they have their money stashed, they are beginning to fear that they will not be able to just command our military to invade and secure it.  Think long and hard about that.
So where is our $30 trillion they have stolen from us?  That's right, in accounts all over the world.  How do we get it back?  Well I hear water boarding is quite effective.  Once we make these sleazebags tell us where our wealth is, we simply send formal notice to the countries holding it, demanding its return within one week, and letting them know that failure to comply will result in a neutron bomb on their capitol.  I say a neutron bomb because it will only destroy their population, then we can just go into their country and get our wealth back by ourselves.
So what do you think?  Our lives and our prosperity still exist.  They are right there.  We can see them and almost touch them.  Within one month we could have everything back and actually be well enough off to take a deserved rest.  I say if it is going to come to blows, let's beat the hell out of everybody.  Let's make the world tremble at the thought of American retribution.  Then maybe when the giant finally lies down to return to its slumber, it will be a good long time before anyone works up the courage to start jabbing at us with their sticks again.
God bless the Republic, death to the international corporate mafia, we shall prevail.