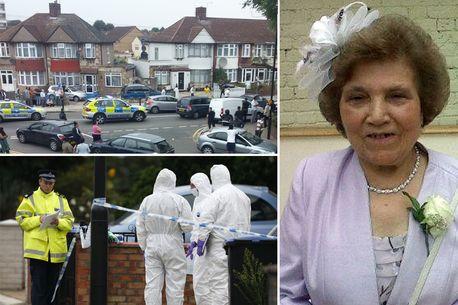 News.au
NICHOLAS Salvador, 25, has been charged with the murder of 82-year-old Palmira Silva who was found beheaded in her own garden in north London.
Detectives are investigating whether her murder was inspired by footage of IS beheadings in Syria, according to UK reports.
Locals claimed the arrested man had converted to Islam last year, The Telegraph UK reports.  
The media report comes after police initially ruled out the murder had links to terrorism.
Police discovered the body of Mrs Silva, 82, in the suburb of Edmonton after being alerted by local residents who said a man with a knife was attacking a cat or dog.
They would not confirm reports she had been beheaded, nor some media descriptions that the act was carried out with a machete.
A 25-year-old man was Tasered by police before being arrested on suspicion of murder, they said.
Woman beheaded with a machete in Edmonton, London, today has been named as Palmira Silva http://t.co/nRTQf40lQb pic.twitter.com/eKEbWRHBFS

— Daily Mirror (@DailyMirror) September 4, 2014
Police evacuated residents from their homes as the man ran through a row of back gardens.
"At first there were two police cars, then all of a sudden there were 20," one witness, 19-year-old Ahmed Yusuf, said.
"The police said to drop everything … They said there's a guy jumping over gardens."
One eyewitness, told The Telegraph UK that she saw the suspect with a "crazed look in his eyes" and a "big curved knife about the size of an arm's length" as she looked through her curtain.
Catering worker Freda Odame, 30, said she saw a black man aged in his mid 20s, of stocky build and dressed in a black T-shirt and black trousers, she said.
"Someone was shouting and the door was banging. I could hear the screaming but I could not hear what he was saying," she said.
"I could see that he had a big curved knife, about the size of an arm's length and he was crouching as if frantically searching for something.
"He had a crazed look in his eyes so I closed my curtains because I was scared. My next door neighbour was in his garden but did not seem to realise anything was going on.
"I have seen him around here all the time, I think he lives on the road, he has a grey car and I think he lives with his family.
"I was just so very scared. Five minutes after I heard him screaming the police knocked on my door and told me I had to get out."
"I was shaking. I drew the curtains straightaway in case he saw me, and called for my husband."
Resident Lauren Perkins, said she was left shocked by what she saw: "I was walking down the road when I saw a man with a big knife walking down the street," The Guardian UK reports.
"Then I saw some police come down and they told me to get off the road."
George Stutianou, who was working on a nearby house when the attack happened, said: "There were so many police here, there must have been about 30 cars.
"I saw some police smashing the doors and the windows of three houses either side to get women and children out. We were in the road and two policemen were running as fast as they could towards us, shouting at us to run and get out off the street. We just didn't know what was going on."
The Independent Police Complaints Commission will be looking into the incident, police confirmed, after a Taser was used during the man's arrest.
The IPPC will eventually judge whether the officers involved took the right course of action.
Scotland Yard said it was also investigating an attempted attack on two people at another house in the same road shortly before the attack on Mrs Silva.
"At this stage we believe they were both able to get out of the house without injury," said a police spokesman.
Detective Chief Inspector John Sandlin of Scotland Yard said they were not looking for anyone else over the incident.
"This was a highly visible attack in broad daylight on a residential street," he added.
"Whilst it is too early to speculate on what the motive behind this attack was, I am confident based on the information currently available to me that it is not terrorist-related.
http://www.news.com.au/world/man-charged-over-beheading-murder-of-palmira-silva-in-edmonton-north-london/story-fndir2ev-1227048359172?from=public_rss