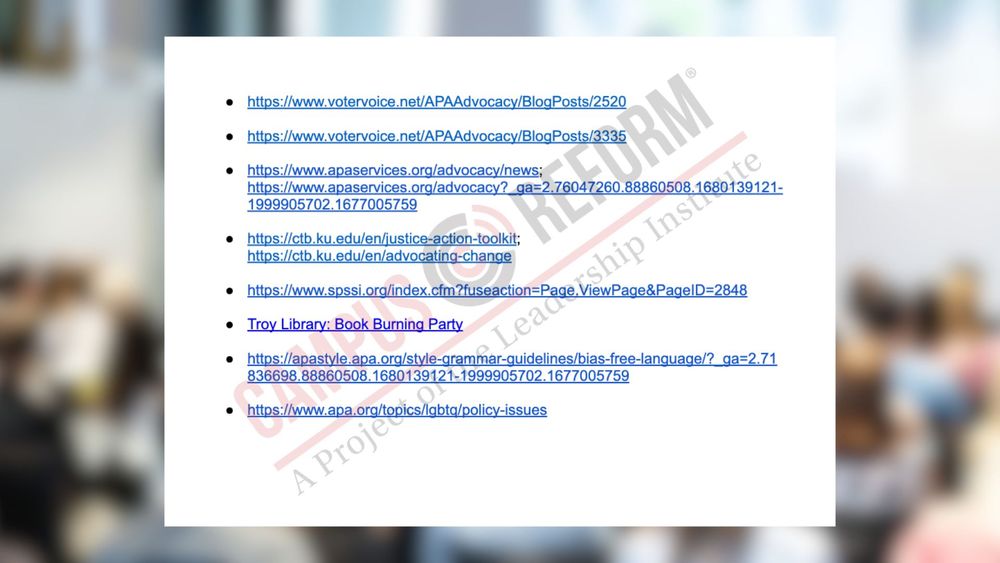 The Society of Pediatric Psychology recently held its annual conference in Chicago. Materials and presentations given to attending child psychologists taught them how to be political activists.
A picture of a table display at the conference was tweeted with a QR code linking to a Google Drive folder containing different advocacy materials for the attendees. Campus Reform made copies of the documents before the folder became private.
One document provided links to various activist resources, including a link to a "Justice Action Toolkit."
Another document contained in the Google Drive was a publicly available "Equity, Diversity, and Inclusion Framework" booklet released by the American Psychological Association (APA).
[RELATED: Physician calls out top med programs for prioritizing 'wokeism' over training 'good doctors']
"I strongly believe that championing equity, diversity, and inclusion (EDI) is not just the right thing to do, it is the smart thing to do," writes APA CEO Arthur C. Evans in the booklet. "As we implement our strategic plan, EDI serves as a critical lens to drive our strategic priorities and measure the magnitude of our impact. It is essential that we embed EDI throughout all aspects of our work."
The booklet also affirms the APA's "long-term coordinated strategy [to] dismantl[e]racism."
Another document, also publicly available, to be found in the cache was an "APA Resolution on Advancing Health Equity in Psychology."
"Inequities are so great they warrant immediate transformative action," reads the resolution. Justifying its almost exclusive focus on racial inequity, the resolution proceeds to state, "APA considered simultaneously identifying a range of interrelated and intersectional variables (e.g., socioeconomic status, gender and gender identity, sexual orientation, disability), and concluded that to do so would have the effect of diluting the clarity and focus of the resolution."
The APA then goes on to emphasize its overtly political agenda, declaring that it "will support the development of training materials and modules on health equity advocacy, with the goal of encouraging graduate students, psychology department faculty members, psychology internship and predoctoral training facility staff and professional practitioners to engage in related local, state, and federal advocacy efforts."
Many attendees took photos of the different presentations given by speakers and posted them to social media.
One presentation discussed "Best Practice for Assessing Gender Identity."
One recommended assessment question was, "There are many ways a person can describe their gender identity and many labels a person can use. How would you describe your current gender identity in your own words?"
This and other questions from the presentation were taken from the Trevor Project's "Measuring Youth Sexual Orientation and Gender Identity" document.
Another presentation photographed and posted online highlighted obesity and "Health at Every Size" for youth. It instructed attendees to use less stigmatizing language, such as "Move my body in ways I enjoy" in place of "Work off/burn off calories."
Using the terms "healthy" and "unhealthy" is also problematic and stigmatizing, according to the presentation.
[RELATED: Student criticizes UChicago Medical School for program that excludes White students]
Event registration cost for the conference had a 10% discount for first-time attendants who were part of an "underrepresented minority" group.
Campus Reform has documented the growing influence of leftist ideology in various medical fields over time.
It was reported last September that a physician and former dean of the UPenn School of Medicine, Stanley Goldfarb, spoke out about programs prioritizing "'wokeism' over 'good doctors.'"
Another report on the UChicago Medical School recounted the many criticisms of the program having an Underrepresented in Medicine Visiting Clerkship Program that excludes white students.
All relevant parties were contacted for comment by Campus Reform. This article will be updated accordingly.