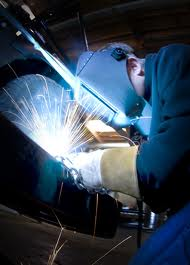 You hear it every day from every quarter, "Deregulate and our country will prosper."  I have mentioned before how big corporations try to categorize themselves in with small businesses and even we the people when it comes to the need for deregulation.  The fact is big corporations dictate regulations through the politicians they have bought and paid for.  Regulations in the United States, as constructed by the big corporations, are specifically designed for one purpose, and that is to create a monopoly on manufacturing.
Think about it, I have.  Being out of work for more than two years, I have been working the problem ad nauseam.  Metal fabrication and mechanics have always been a mainstay in my family.  Therefore it would seem logical that as big business, through its downsizing for profit has eliminated any hope of obtaining a living wage job, I should be able to organize my family and start producing products for sale without restriction.

One of my sons currently works in computer drafting for a fairly good size machine shop.  All of my sons and my nephews have high aptitude when it comes to design, welding, and metal products production.  If we saved our money and acquired the necessary tools to begin producing custom products made of metal, you would think if we know what we are doing, we should be able to start and build a business from the ground up.
Not so, as we would also be looking at city, state, and federal licensing requirements, insurance requirements, and you will not start a shop in your garage on your private property as the fire marshals would not approve, even if your garage was made of non-flammable material.  Don't forget the zoning laws.  And if you wanted to make your business mobile, you would be running into a whole different string of regulations and fees.
So what if you just say, "The hell with it" and do it anyway?  Well it is a fact that the Mexicans have large drug operations making billions of dollars a year, which law enforcement can't seem to find the time to stop.  However, you should have no doubt, they will come to your house, kick in your door, and confiscate your equipment and shut you down for failure to comply if you should start running the aforementioned fabricating business.
Why?  Because the giant corporations, who are running our country will not allow any business in this country to exist that does not benefit them.  And they sure as hell will not allow competition.  Think about it.  They deregulate the investment banks in getting rid of Glass-Stiegel and put the resources towards police raids on lemon-aid stands.   Make no mistake, these international corporations have orchestrated and put in place a system wherein our natural resources cannot be manufactured unless the profits are going to them.
This is what I mean when I say if we can get Ron Paul into office, he will take the regulation that we the people are being controlled under away.  After which, by the millions, we can create our own jobs and start manufacturing our raw resources here in the US again.  And as we are Americans and will be producing a superior product, the giant corporations are going to find their Chinese and Indian produced products going back the way from whence they came.
This recent raid on the Gibson factory in Memphis and Nashville, Tennessee is causing a lot of speculation.  Well here is some of my own.  It is orchestrated.  This is propaganda.  It is designed to get the American people to embrace big business and see it as themselves and to get us shouting "Deregulate, deregulate".
We have to keep our minds straight here.  This is a conflict between them and us.  They are not us.  We are being run over and they are the ones running us over.  I do not want a country wherein the only way I can work is to work for the corporate lord.  I want to be free to create and produce my own product for sale, in direct competition, in a free market.
The money giant corporations spend in complying with the regulations they have created is nothing more than a little overhead to them, whereas to those among us who would want to start a business, it is an insurmountable barrier.
Don't be fooled by these bastards.  Look around your house, at your TV, stereo, and DVD player, produced by these American corporations manufacturing your resources in India and China.  This junk is just that, disposable junk designed to fail, which could not compete with an American made product on an even playing field.
Tell me this.  In today's economy, if you had the choice, would you buy one of these Chinese DVD players that fail within a year for $40 if you could buy one made in the USA with metal construction and quality control that would last for ten years for $150?  Remember what made America great was that everybody wanted our products because they were superior because our workers took pride in their manufacture.  Remember the old saying, "I'll put my name on my work."  What fostered this pride was the standard of living it provided for the American worker.
Do not look at these corporations in any way as being a part of us.  They are not.  They have been working for a hundred years to de-industrialize our country to their profit and our demise.
Let's put Ron Paul into office and reinstate our Republic under our Constitution, and in doing so deregulate our people while taking control of our natural resources.  We as individuals in the hundreds of millions can easily bring these multi-billion dollar corporations to their knees, as they will not be able to compete with our ingenuity and aptitude, as they represent nothing more than hereditary money and power that has allowed individuals, who are not really that bright, to take control over the lives of the most creative and innovative people to ever exist on this planet.
Within the industrial war complex these lesser human beings are growing fat from the life's blood of our young people being killed in their money wars.  We will further bring them to an even playing field by forcing them to move away from war production or go bankrupt.
This isn't rocket science.  NAFTA. CAFTA, GATT, and every other free trade agreement are nothing more than corporate backed treason that is taking the manufacture of American resources out of the American people's hands.  Do not fall for their propaganda.  They are in no way a part of us.  They want to enslave us and in the end, kill us as it has come to the point that the only way they can have more is to liquidate our lives.
We are the American people of the American race and united we are going to take this country back.
God bless this Republic, death to the international corporate mafia, we shall prevail.