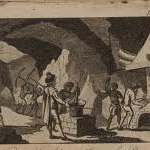 There have been a lot of pieces in the mainstream propaganda trying to portray businesses as doing well in the United States and the truth is businesses are doing great.  The problem is the people are not.  The record profits being seen by big business can be directly correlated to record downsizing of American jobs which have been moved overseas where labor costs are at a minimum.
The neo-cons like to step up and declare that it is just good business and that it is the right of international corporations, basing themselves in the United States, to move our industry out of our country.  In one FOX report I watched, the propagandists were doing a piece on a railroad yard.  This is when I heard an undeniable truth being told in an attempt to spin its factual content toward the positive.

The statement was, "Americans are very good at extracting resources and shipping them to the ports."  People, this is something we don't want to be noted as being very good at, as this is what slaves in third world countries are very good at.  It is in fact an example of the wealth from our raw resources going directly into the pockets of the filthy rich elite.
The American citizenry should be blocking the roads and railroad tracks as it seems that is the only way to stop the rape.  And we must stop the rape as the only way we get our jobs back is if our raw resources are being 100% manufactured by us in our country.  Those we have hired to protect us and our natural resources have betrayed us for their thirty pieces of silver.
As the 99ers struggle day by day just to stay alive, our natural raw resources are being shipped overseas for manufacture for the benefit of corporations, who not only pay no taxes but receive billions of dollars in subsidies that are coming right out of the paychecks of those still fortunate enough to be working.
99ers, poor, and middle class; our enemies are not going to stop until we, everyone of us, is left to starve to death in a third world United States devoid of resources, wherein all of the food producing land belongs to international corporations who will truck the food under armed guard, right past our starving arses and to the docks, to be shipped to China and India where they will move their operations, as they will have no further use for us after we have been "very good at extracting our resources and shipping them to the ports" until they were gone.
I know some are going to say that corporations pay the most taxes.  Well I will tell you right to your face, and looking you in the eye, "bullshit."  The working poor, the middle class, and small businesses making under a million dollars per year pay all of the taxes.  The big corporations never have, nor do they ever intend to, pay taxes.  Through the calculated theft of our natural resources, these deplorable bastards have stolen $28 trillion of our wealth, and left us subservient to them on the continent our forefathers conquered.
They must be brought to justice and made to pay for their crimes.  And in order to achieve this we the American people of the American race, red, yellow, black, brown, white, cowboy, hippy, rebel, yank, et. al. have to step up and let them know that we are laughing at the desperate attempts of their propagandists trying to convince us that somebody like Sarah Palin, that airheaded bimbo from Alaska, would in any reality be preferable to the noted champion of our Constitution, Dr. Ron Paul.
No matter what they do we are going to make him our next president and make them rue the day they first decided we were stupid enough and weak enough to be conquered by a cabal of international worms.
God bless the Republic, death to the international corporate mafia, we shall prevail.