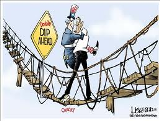 Well the big buzz is there may be a double dip.  And what exactly does this mean?  Well the corporate elite are getting ready to dip into the middle class again and throw another bunch of us out in the streets to starve to death as the lie of a recovery can no longer be sustained.
We at From the Trenches have made it emphatically clear that the downward spiral has not only not slowed, but has in reality been accelerating.  Remember back in December the filthy rich were saying jobs were not coming back because they needed an extension of their tax give aways, after which they would feel secure and start hiring again. We told you that this was a lie.  And when the propagandists told you we were in a recovery we told you that there was no recovery and that there was not going to be one.

You see what happened is the international bankers agreed to hold off on foreclosures long enough to allow the illusion that the recession was slowing and justify handing over billions of more tax dollars to the filthy rich who caused the economic meltdown.  Now they are starting to foreclose again.  And guess what.  There are more bad loans out there than it took to put half of us out of work and now it is getting ready to happen again.
Of course these unbelievable bastards are still trying to blame we the people for this mess, in saying we took loans we could not afford, completely ignoring the reasons we could not afford the loans, which were that they downsized our jobs and stole our 401K's, homes, and cars, and left us destitute.  Not to mention the fact that they took what they knew to be bad loans, packaged them up, and fraudulently sold them as prime securities.
After yesterday's big announcement that our economy is going further down the tube, the neo-cons came forth with their solutions.  We cannot get unemployment extensions debated in our Congress but I'll tell you what they are debating.  Welfare Reform.  They are saying that those people on welfare need to get out there and get a job.  Do they even hear the words they are speaking? And on the off chance one of them might get a job, they want to broaden the tax base so they can tax them.
This one piece of feces, Neal Boortz, was saying that a family of four among the working poor, who do not have to pay federal income tax and get tax credits for feeding their children because they live under the poverty level, are getting a $400 per month free give-away from the government.  How stupid do they think we the people are?
And of course the reason we are not seeing any jobs being created is because the filthy rich have become insecure again.  They say they need more tax cuts and deregulation.  I bet I know what would make them feel really secure and that is if the rest of us would disarm and become their slaves.
If the neo-cons propose changing the tax structure, do you think they are going to change it to make it so the rich pay more taxes, or the rest of us pay all the taxes and they pay none?
The fellow talking about putting taxes on the poor said 51% of Americans do not pay any income taxes.  That is because they have no INCOME because they don't have a goddamn JOB!  Let's be clear about this.  People who are desperate for a job cannot get one, because there are no goddamn jobs.
And now they want to tell 40 million people receiving welfare and food stamps to go get a job.  Where are they going to work?  You think I don't know, don't you?  Wrong, I do know.  They are going to fire all of the public employees, steal their pensions, the equity in their homes, and their bank accounts, and put all the people on welfare to work doing their jobs for room and board.
Then when all the public employees are out of work and not paying taxes they will say 70% of Americans are not paying taxes.  I guess at this point they will just pass a referendum putting the whole population into slavery, calling our compensation for our work our fair share of the taxes, which can go to the corporate elite that own our government.
I swear to God, every one of them should be afraid to walk out onto a public street.  They say we should all feel the pain.  But do not get we confused with them as they have not only not shared the pain, but have prospered every inch of the way.  I cannot even think of a word that portrays how outlandishly sleazy they look sitting there suggesting that we take more from the poor and middle class, and give it over to the thieves that have been stealing from us for 100 years.
I think these bastards actually have some delusion wherein we pound our M-16s, AK-47s, and 50 calibers into plowshares and just acquiesce into slavery.  No, that's not so either.  They are scared shitless.  That is why they are making such stupid moves.  I think they believe that in the end they are just going to be allowed to take the money and run.  The only question is how much can they scoop up before they have to run?
Every day we the people wait the worse it is going to be when we finally have to take them to task.  Considering this latest move the best advice I can give to the American people of the American race is to arm and prepare to take everything back.
If they do decide to flee we will just take our $5.5 trillion nuclear arsenal, we have bought and paid for, and point it at the countries they flee to and tell them to deliver the thieves and the booty up to us or else.
I hope they are reading this because I want them to know that if I am the man on that button, they had better deliver, or I'll push it so fast it will make their head swim.
I think they know Ron Paul is going to win the 2012 election so they are trying to perpetrate the final bluff.   We must let every politician know that if they hurt our people any more there are going to be consequences.  We are in the right.  They are in the wrong.  And we are going to take our Republic back and it is going to be operated under our Constitution.  Pity the low life sons of bitches who thought they could conquer us.
God bless this Republic, death to the international corporate mafia, we shall prevail.