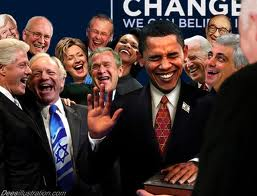 It is being reported that if the United States Congress does not raise our debt limit, Moody's is going to drop our credit rating.  So just what or who is Moody's?  Well I will tell you.  Moody's Corporation is the parent company of Moody's Investors Service, which provides credit ratings and research covering debt instruments and securities.  Moody's is also the organization that gave Triple A ratings to the bad derivatives made up of the toxic mortgages that resulted in the economic collapse.
It worked like this.  The banks made loans that they doubted could be paid back; high risk, high interest loans.  They then packaged those bad loans into derivatives, after which they hired Moody's to evaluate these toxic loans and give them a fraudulent Triple A rating, after which they were purchased by institutions like workers' pension plans consisting of 401Ks.


Now it gets better.  At this point another batch of gangsters took out insurance policies with AIG on these loans, which they neither made nor owned for the sole purpose of collecting on those policies if the loans were not paid back.  At this point all involved had made billions from these worthless loans.
They then, as a unit, through increasing leverages, caused a financial meltdown, which caused credit to be pulled from the private sector, which caused businesses to shut down, which caused the workers at those businesses to lose their jobs, which caused them to default on their loans, which caused AIG to pay off the policies to those who had bet on the defaults and had in fact caused them.
We the people were then forced to give AIG all the money they had to pay out to the banks, 100 cents on the dollar including interest, through the insurance policies.  Then as the loans were being foreclosed on, we the people had to make up the losses of the banks for the bad loans that we had paid the insurance policies on to the people that caused the collapse.  So we had been effectually screwed twice on the same deal.
No, three times.  As the only people who lost money that were involved in this deal, were the workers who lost their jobs and their 401Ks, which were found to be worthless because they were made up of derivatives made up of subprime high interest bad loans that Moody's had rated at Triple A.
Now Moody's is telling the American people that we had better pay back the money we borrowed from the banksters with interest, to give to the banksters, through the payoff on the insurance policies and the bailouts of the banks that made the bad loans, packaged them into worthless derivatives, that they paid Moody's to rate Triple A, or else.
The crimes and the criminals are identified, so why does our justice system not bring them to justice?  Well because it was federal regulators employed by the US taxpayer that allowed it all to happen.  In fact they participated in the fraud and became quite wealthy through their treachery.
I believe if every American understood what went on and indeed what is still going on, ten million of us would surround Wall Street, then go into AIG, Fannie Mae, Freddie Mac, Goldman Sachs, Bear Sterns, Moody's, and the rest and drag their executives by their silk neck ties out into the street and curb stomp them.
Remember, the neo-cons are at present calling for further deregulation and tax cuts for these thieving bastards.  It is a fact that deregulation like the ending of the Glass-Steagall Act are what allowed these international thieves to steal $28 trillion from we the people and now they think they are just going to get away with it.  Not only that, but they are arrogantly saying that we the people are going to further deregulate them to allow them to steal more or else they are going to hurt us by lowering our credit rating and further depriving us of jobs.
Understand these people are not Americans.  The largest corporations in this country do 60% of their business overseas where they ship our stolen resources to be manufactured then brought back to the U.S. to be sold to us for further profit, which they do not pay taxes on because the product was manufactured overseas, and there are no tariffs because they are listed as U.S. companies.
Realize at the higher levels there is a small group of ultra elite who have $100 trillion between them derived from fraudulent currency and Ponzi schemes.  They have made themselves the strongest economic force on the planet.  And they hold absolutely no allegiance to any country.
Also realize there is still a thousand trillion fiat dollars' worth of these toxic derivatives floating around the world and it is mathematically impossible to pay even half of them off.  And now they are beginning to use them to further destroy our country.
We have absolutely said no to everything, no to giving them our Social Security and Medicare, no to ending welfare and Medicaid and giving that money to them, no to funneling money to them through foreign aid.  And now to retaliate, they have started the foreclosures again to try and force us to pay off more insurance policies written by AIG on the bad derivatives consisting of bad loans that were rated Triple A by Moody's.
And I forgot to mention the icing on the cake.  After all the foreclosures and theft, who ends up with the properties foreclosed on?  The very same banks who made the bad loans in the first place, the very same banks we bailed out, the very same banks who never lost a dime and made obscene profits through this whole thing.
There is only one way we are going to stop these incredulous slime balls, and that is to destroy the Federal Reserve and thus the catalyst that has made it all possible, the phony fiat debt dollar.  The fact is it is the Federal Reserve, as a part of the international banking cartel, which sits at the top of the pyramid.
Do they think we are so stupid that we cannot see this theft that is occurring right out in the open?  We must jail these deplorable scuz buckets and take back everything they have stolen and see to it that they never gain enough wealth again to allow them to perpetrate their evil.
God bless this Republic, death to the international corporate mafia, we shall prevail.