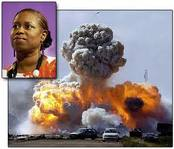 What started out as a no-fly-zone is now without question a brutal offensive aimed at a regime change in Libya through the international assassination of Muammar Gaddafi.  In an interview with RT, ex-Congresswoman Cynthia McKinney described the information being fed to the U.S. public by the mainstream media as "Perception Management."  This term is indeed found in Department of Defense documents and is described as follows:
Actions to convey and/or deny selected information and indicators to foreign audiences to influence their emotions, motives, and objective reasoning; and to intelligence systems and leaders at all levels to influence official estimates, ultimately resulting in foreign behaviors and official actions favorable to the originator's objectives. In various ways, perception management combines truth projection, operations security, cover and deception, and psychological operations.

This is a blatant use of propaganda in an attempt to sway the American public into supporting an unjust and illegal invasion of Libya by the U.S. and NATO.

Ms. McKinney went on to describe the bombing of a university in Tripoli indicating that this so called humanitarian mission is in reality a brutal assault on the Libyan patriots who are standing with their leader, Muammar Gaddafi, in defiance of Al Qaida rebels, who are in the minority and want to take over that government.
Ms. McKinney went on in the interview to outline her belief that depleted uranium bombs are being used to bomb Tripoli indiscriminately.
You will see this report on From the Trenches and when you do, ask yourself why you are not seeing it in the mainstream.  The very idea that our Department of Defense has a policy that sanctions and encourages deliberate deceptions in reporting the activities of our military to we the people is beyond outrage.
The fact that we are participating in the unwarranted and illegal attack on the Libyan people is an absolute demonstration of our lack of control over our government.  The use of the depleted uranium bombs displays the outrages our government is willing to commit on other peoples around the world acting under the orders of the international corporate mafia in our name.
God let the people of the United States see their government for what it is.