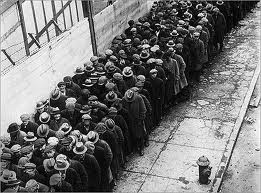 I have been receiving emails a late attacking me for not focusing my attention on HR 589 and/or a Tier 5 unemployment extension.  These 99ers have said everything from that I am an elitist to I do not care because I got an unemployment extension for attending school.  I truly hate to attack 99ers but I have no problem with putting socialists in their place.
These people who want to limit our message to one of begging for what is ours by right are social communists at their roots.  I have said before that the neo-cons make up about 20% of the top 10%.  On the other hand the social communists make up 20% of the bottom 10%.  You have to understand what the plan has been all along and that it is a product of the one party system.

You see the neo-cons attack the American people of the American race by eliminating our jobs and agitating us further by coming after Social Security, Medicare, welfare, food stamps, and Medicaid.  You know, that safety net we paid for for thirty years.  You see we were supposed to have rioted by now and Barry was supposed to have stepped forward and offered us social communism as the alternative to neo-conservative national socialism.
What they did not realize is that the American people for the most part still understand what our country is supposed to be.  As things started falling apart, instead of turning to them we turned to our founding documents to find out what went wrong.  And in doing so we identified them all, both neo-cons and social communists, as the insurgents they are and now we have become determined to eliminate both.
I have made it clear since I began writing articles for the 99ers that I will never accept socialism as a condition to getting an unemployment check.  Any unemployment benefits I have taken or will take in the future are by contractual right.  I bought into an insurance policy, cash on the barrel head.  And insurance companies being insurance companies, want to pay nothing or as little as possible when the benefits of the insurance policy are needed.  And every American knows this is the truth.
If you have ever had a serious car accident you know that it is not as simple as filing a claim and getting paid for your damages.  No, you are going to spend about three years and the slut puppy attorneys are going to take the lion's share of your settlement in helping the insurance companies screw you.
All you 99ers out there reading this do understand that the unemployment insurance fund was drastically depleted in the ten years leading up to this so called financial crash.  And where did that money go?  Back to the corporations through cuts in their obligations to the premiums.
No 99ers, we have to look at this situation for what it is and in its full scope.
We have one group, well let's call them the Republibastards, they are made up of big business.  They want to continue to take more of our natural resources while using their propaganda machine to consolidate their power over us to the point of our enslavement under national socialism with corporate elitism at the top taking us into world communism.
Then you have another group of people, let's call them the Demosonsofbitiches, they want the workers to give up their Constitution, nationalize industry, and become slave worker bees in the collective that the corporate elite will control and lead into world communism.
There is just one problem and that is between both sets of traitors they only make up about 10% of the population and we know who each and every one of them are.  They have used their propaganda machine in an attempt to focus our reality into one week segments.  They plan everything on a week to week basis.
However we the American people of the American race have turned the propaganda machine off and instead of listening to their lies are now hearing the truth that we are speaking to one another.  They have become apart from us and they know it.  That is why everything they are doing appears staged to the point of the absurd.
It has always been the downfall of the tyrant.  When their austerity and terrorism begins to fail, rather than backing off, they increase the level of deprivation.  In trying to squeeze the people this way, we slip through their fingers and destroy them from the outside.  And that is what is happening right now.
The more they try to bury Ron Paul, the more obvious their fear of him becomes.  And we the American people of the American race, being the carnivores we are, smell blood.  We have begun to hurt them and we know we want to hurt them more as they have earned nothing but our contempt.
So all you neo-cons and social communists be aware, we know who you are and by God we are going to punish you for your wanton treason against our Constitution.
God bless the Republic, death to the international corporate mafia, we shall prevail.