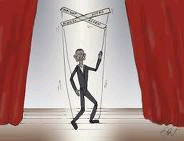 Barak Obama is indeed a man of the people.  Sometimes you can actually feel his sincerity when he is speaking of the people.  I believe him when he says it is his deepest wish that the people know justice and freedom and that the people have a right to expect a chance at a future, including prosperity.  The only problem is that when Barry is speaking of the people, he always speaking of the people in another country.
But what should we expect from a non-American citizen of the world that detests the American people because they will not embrace his communist ideals.

Senator Joe Lieberman recently introduced a bill that will give Obama the power to shut down the internet at his whim.  Make no mistake, Barak Insane Obama is a dictator and that is not nearly as scary as the fact that he is a puppet dictator, and those who are pulling his strings are the very one-worlders that want the United States broken and brought to its knees.
To this day the traitor Soetoro has spoken intimately and passionately to the peoples of India, Indonesia, China, South Korea, Egypt, Brazil, El Salvador, and most recently Libya, yet he has yet to utter the word, 99er.  It would be blatantly stupid to assert that he does not know who we are or what we are going through. 
The fact is he and his international brethren know exactly who we are.  But rather than see us as human beings, this Nobel Peace Prize winner sees us as a byproduct of the technological revolution that he would like to expel into space along with the nuclear waste created by the nuclear plants that he supports wholeheartedly.
Think about that.  He has come out and spoken his endorsements for the nuclear power industry while refusing to acknowledge the existence of the 99ers.  We have to wonder what plan is presently in motion to dispose of the problem of the 99ers. 
Though many have killed themselves there are millions of us and more joining our ranks every day.  I will not believe that the international corporate mafia has not formulated a plan for the final solution of the 99er problem.  But I can promise you that that plan cannot be to put us back to work. 
If you think that the international corporate mafia is not capable of genocide you are a damn fool.  And we must remember that international communism is the ultimate goal of the international elite. 
In short, I think they are going to try to kill us because mathematically for us to return to work and regain our prosperity is impossible in their eyes as this would require a redistribution of the wealth they have compiled.  And if you think they are just going to let go of any wealth and power you are beyond ignorant. 
This is coming to a war that will either reestablish humanity upon this earth or see it erased from the human psyche forever.  The American people, red, yellow, black, and white, poor and middle class must come together and assert themselves before it is too late.
Whatever the international elite have planned for us it is going to have to be revealed soon as even the major distractions like nuclear power plants and wars are now being swept away from the people's consideration in a matter of days and weeks, rather than months and years. 
Those actors sitting in our highest seats of power will be taking an Easter vacation in April.  If we know what is good for us, we had better make it one they will remember.  Start building the crosses and the platforms.  If you really want to get this revolution underway it is going to take radical acts that do not allow them to crush us without losing the moral high ground.
The time is now and only we can change our future.