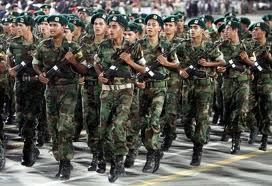 Last week it was revealed that NATO is running low on bombs for Libya.  To date 2000 have been dropped, the majority being on Tripoli.  But this is not city busting nor genocide being committed on Libyan civilians.  According to our illustrious president this isn't even war.  It is in fact a humanitarian effort designed to save lives.
They can take Libya out of the mainstream news but the lie it represents is not just going to go away.
They say the battle in Libya is one for democracy.  Quite frankly I do not believe in democracy, but working on that theory democracy is supposed to mean that the majority rules.  However the reality of the day is that we continue to pound the majority with our love bombs to further the cause of the minority, which is in reality made up of Al Qaida insurgents, of which our service members are locked in mortal combat with in four other countries.

The hypocrisy has melted into a bizarro world wherein bombs are humanitarian devices, the terrorists are our friends, and we kill for life and all the perpetrators in this fraud need to do to escape scrutiny is to order those running their propaganda machine not to report.
You will notice in our current budget debate that though the issue of military spending is mentioned in passing every now and again, there is no real consideration of cutting a dollar.  In fact the latest legislation to pass puts more spending dollars into the death machine.  There is a simple explanation for this phenomena and that is the United States Armed Forces is no longer there for the protection of the sovereignty of our country and its people, but has in truth been reduced to nothing more than corporate muscle.  If it is ever revealed just to what extent the international murder being perpetrated in our names has been privatized, the American people might very well stop all funding.
My fellow Americans, the only ones invading our country consist of the army of illegals coming over our southern borders, while our so called defensive army is busting heads for the corporations literally all over the world.
The phrase "international corporate mafia" is not a euphemism.   It is a fact, so no matter how much we want to wave our plastic flags made in China and proclaim our support for our boys and girls in uniform, the time for accountability is edging ever closer.
We have committed genocide in the Middle East, and not just once, not just twice, but multiple times.  We are now openly conducting operations designed to murder foreign sovereign leaders of foreign sovereign nations and have indeed murdered their family members in the form of little children in our botched attempts.
I hate to say "ours" because the fact is the majority of us are disgusted at the debauchery being committed in our name.  But not to worry, Washington DC will not fall next week as the Germans have graciously stepped forward to provide a new arsenal of bombs to drop on the majority of people in Tripoli.
I hope we can hold on long enough to get Ron Paul into office so that, through his leadership, we can end this madness and the world can begin healing.  It will no doubt be generations before the world stops looking at us like a mob of psychopaths.  But hopefully the decency that once was this country will arise and prevail again.
God protect and watch over our leader, Ron Paul.