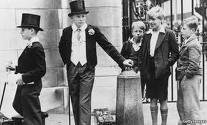 Today I'm going to address the 99ers exclusively.  Many among us are wondering why there is not a stronger propensity toward aggressive action among our people.  Well, to get to the root of this question there must be a clearer understanding of who exactly we are.  When on the rare occasion a 99er story makes it into the mainstream propaganda there is a generality that cannot be ignored.  That is a middle aged man and woman standing in front of an $800,000 home with one or two brand new SUVs sitting in the driveway.
Their heart wrenching story goes something like this.  The husband says, "I've lost my job, exhausted my 99 weeks of unemployment, and the only income we have coming in is my wife's salary."  The view then changes to one of bare cupboards and a refrigerator with a scant few items contained within.  The wife says, "We have gone from an income of $200,000 a year to the $30,000 my job provides.  Our house payment is $2000 a month which my income barely covers and we have to dip into our retirement savings to make our car payments."  At this point the woman usually has tears in her eyes.

You see the reason we are having trouble uniting under an aggressive platform has been directly affected by the nature of the attack on the middle class, our new economic depression represents.  In almost every so called recession since the Great Depression, the cut taken out of the middle class was almost exclusively from the bottom tier.  And those in the upper income were hardly affected at all, regardless of age or work experience.
When the corporate elite attacked this time they went for age and seniority, and this was a fiscal decision.  When they decided to cull the work force they went for those in the higher pay grades which is to say those who had been working longer, had escalated to the higher pay grades, and were closing in on retirement.  This was of course at every tier.  That is to say the older higher paid employees in the upper tiers were culled equally with those on the lower tiers.
So what we have at present is essentially a social split in the long term unemployed.  We are all unemployed and hurting but the conception of the situation exists in two different realities.  Those like the couple described above cannot yet conceive the true magnitude of the deprivation.   How can the plight of someone living in an $800,000 home with two new SUVs sitting in the driveway, $30,000 a year still coming in and bank and retirement accounts still to be tapped, be compared with a man a wife with two or three or four children living in a tent city, homeless shelter, or on the street with no income and absolutely no hope?  The fact is it cannot.
When I tell the 99ers that we are going to have to suffer a lot more deprivation before we see a true unity that might produce results, this is what I'm talking about.  You will see people come onto the comment section and say I have not talked about the 99er issue in the day's article.  This is because the only thing they want to hear is that an extension is coming, which equates to, they can stop tapping their retirement accounts.
Those of us in the trenches know that it has gone far beyond unemployment extensions.  We see the push to enslave some and completely eliminate the most of us.  These people who still have wealth think that the whole thing is just a big mistake and that they were included through some error in some calculation.  It makes perfect sense to them that it has happened to those they have always considered to be beneath them.  What they fail to understand is that there has always been someone above them looking down and thinking the same thing.
And when you see them on television crying they are not reaching out to their fellow unemployed as a whole, but rather to their fellow elitists who have wrongly been put in the same situation.  They will not reach out to us because to do so they would have to reach down, which might involve throwing a little of the lot they still have left into what is in reality an empty pot.
Only when they have lost everything will they understand that there has never been but one elite in this country, and that is those at the very top.  They have allowed those in the middle and upper middle class the illusion of elitism only for the purpose of incorporating them into the cause of taking from those below them.  They do not understand that in the end those at the very top intend to have it all.
No, if the 99ers were truly united among all who have been affected, we could march on Washington DC.  But that would require those who still have wealth left financing the operation.  And quite frankly I do not see it happening.  They will continue on taking care of themselves with what they still have and what they have coming in until that is taken away.
Then when they are truly among us, they will be the first ones bitching and complaining because no one has done anything yet.  To which we will do as we have done all along.  We will tell them, "Yeah, we understand" and "Welcome to the jungle."
As we have been here longer we will be a lot better adept in our survival techniques, which is going to cause rather just or unjust a bit of a role reversal.   Because at this point they will be reaching out to us and they will be reaching up and they will be asking for food.  To which we will not deny them as their humility will be the punishment for their past arrogance.
So all you 99ers out there still fortunate enough to have some sort of income and a roof over your head take a minute to think about what you are saying before you come onto the comment section to criticize those with nothing left but their will to resist and punish their oppressors.
Make no mistake.  Unless there is radical change for the better in the very near future, which I do not see, there is going to be a real war in this country with real bullets, real blood, real death through murder and starvation.  And every agony we will suffer will be attributed to our failure as Americans of the American race to fight for and protect one another from our common enemy, which is the international corporate elite that has taken absolute control of our government, and whom we are going to have to defeat in battle in order to reinstate our Republic under our Constitution, so that those of us who are left and our prodigy can once again live in peace and prosperity.
This is the ugly truth too many 99ers do not want to hear.  But I tell you the longer it is ignored the worse it is going to be.
God bless this Republic, death to the international corporate mafia, we shall prevail.