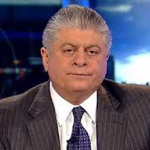 Just when I thought I had a clear conception of the extent of the contempt that the neo-con elite hold us in, I was truly taken aback.  Yesterday on Varney and Company, Stuart Varney, Charles Payne, and Andrew Napolitano were discussing the unemployed man from North Carolina who robbed a bank for one dollar so that he could be thrown in prison in order to get medical attention he needs.
Charles Payne said, "This is the only country that I know of, you know we talk about how uncaring we are, where people don't have to work in this country.  You can go to jail, you can get three square meals, all the medical benefits you want, and unfortunately it feels like sometimes when people, right in the middle and they have a choice, the easier choice would be, let me get Social Security benefits, let me say I'm crazy, let me get welfare, than to try to tough it out."

Charles Payne, you have to be one of the sleaziest lowdown sons of bitches I have ever seen in my life.  Do you know what else you get in prison besides three square meals and free health care?  You get beat, raped, and murdered.   And just what do you mean by "just tough it out rather than get welfare"?  Starve to death?  You are not saying that are you Charles, you pathetic puss ball.
Shocking?
Varney said, "Whose side are we on here?  The guy desperately needs medical attention.  And let's suppose that is the truth.  He has no medical insurance.  How is he going to get the treatment he needs."
Napolitano replied, "It shouldn't be the taxpayers that pay for it."  (No, we give their money to the billionaire bankers.)
Varney says, "Then who is going to pay for it?"
Napolitano answers, "No one.  He should prepare for himself."
Varney asks, "So should he die in the street?"
To which Napolitano answers, "Better that he dies in the street than that you and I pay for it."

All right people, it is as we've said it would be and straight from the lips of an ex-federal judge.  If you have your job taken away it should follow that you lose everything and be left to die.  Andrew Napolitano, you give new meaning to the word "sadist".
You see Andrew Napolitano is among the rich elite.  He is an ex-public employee who retired with a fat pension and lifelong health care that he now wants to take away from others.
Somebody said on the comments section a few days ago that Ron Paul should choose Napolitano as his running mate.  I have said I do not believe there is any way Ron Paul can be defeated.  I stand corrected.  If he were to choose Napolitano as his running mate, I and every free man and woman in this country with a conscience would turn on him like a rattlesnake that has just been stepped on.
Varney, at the end of his broadcast, pushed himself up in front of the camera with a hateful look on his face in an attempt to vicariously get in the face of some union leader.
I'll tell you what, Varney.  You think you're a tough guy and you got a big pair?  Want to feel like a real man?  Go out in the street, find yourself an old school 99er, put that nasty look on your mask, and get up in his face.  But no, you'll never do anything like that.
I'm going to tell you something else and you can pass it on to that fat ass tub of lard Charles Payne.  If I were you, I would stop attacking the public workers' unions and I'll tell you why.  That cop you're expecting to hold your hand, while you are attempting to puff your chest out and act like you are a man in getting in the faces of other men, belongs to that public workers union.
Maybe you better take a long second to think about what might happen to you without a cop to be your balls.  Do not sit up in front of the cameras anymore and portray yourselves as tough guys.  You are laughable and every man out here knows you are a pack of punks that couldn't whip the wind with a fist full of hammers.
God I cannot wait until the day of accounting comes after we have our Republic back under our Constitution.  We are going to take our time in making sure your punishment fits your crimes.
God bless this Republic, death to the international corporate mafia, we shall prevail.