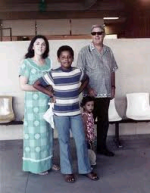 I was watching FOX Business this morning and Stuart Varney revealed that he had cried while watching the royal wedding.  Varney was born in England and is a naturalized citizen of the United States, leading me to believe he holds dual citizenship. 
So why do I care?  Well for the same reason I care whether or not Barack Obama AKA Barry Soetoro is a citizen of the United States.  You see when Varney cried it wasn't because he was watching his daughter get married, or even a close friend.  He cried because his pride in his British heritage became too overwhelming to hold inside.  Stuart Varney could easily be a poster child for mixed loyalty of naturalized citizens of the United States.

As so many of Obama's records have been destroyed and or made purposefully unavailable it is not only the right, but the duty, of every American to demand to know his nationality and hence where his loyalties lie.  There is strong evidence that at the very least Obama was made a naturalized citizen of Indonesia, which he would still have to be unless he came to the United States and was nationalized here, in which case he would still not be eligible to be president of the United States. 
Does he have mixed loyalties?  I think it is impossible to say for sure at the moment.  But I do think it is safe to say that Barack Obama/Barry Soetoro's presidency has been very good for the Indonesians and their economy.  I wonder if he got a lump in his throat when he went there to visit his childhood home.  I don't know about the rest of the citizens of the United States, but I want a president that is 100% American and devoted to the American cause, and I don't care what color he or she is. 
Think about it like this.  They talk about world trade and the world economy.  So let's look at it like a business.  Would you be foolish enough to hire a CEO from a competing company?  Do you think that it would cross your mind that he might still be working for the other company and intent on giving your competitor whatever he could, in order to insure their prosperity from your downfall? 
Did not Barack Obama just a few months back take a plane load of American CEOs that we know to be the enemy of the American people, on an all expense tax payer paid trip to the countries of our competitors so that they could procure more deals to send more of our industry overseas?  And wasn't Indonesia was one of those countries? 
I ask this question over and over again and I am starting to feel a little stupid for my repetitiveness, but do they really think we are this stupid?  Barack Obama AKA Barry Soetoro is no friend to the working American.  What else does he have to do to prove this to us?  I guess there is no way around it; we are going to be forced to find out.
God save us from the duplicity.