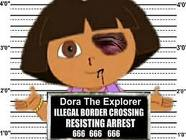 I had an interesting experience recently.  My grandson was visiting, and being a six year old he likes cartoons.  He tells me he wants to watch Dora the Explorer.  I had seen little flashes here and there and had an idea of who Dora was, but had never actually watched an episode of Dora the Explorer.  I asked my grandson who Dora the Explorer is.  He said she is a nice little girl that saves animals.  So I thought, what the hey, I'll watch Dora the Explorer with my grandson.
Do you guys want to know who Dora the Explorer really is?  She is a little Mexican girl who teaches little Mexican children how to read maps that show how to cross deserts, navigate jungles, scale mountains, and of course, ford rivers.  No, no, you haven't heard the best part yet.

Simultaneously Dora is teaching my little American grandson how to speak Spanish.  You might say, well what is wrong with that?  Well, learning a second language is no small matter.  So they are going to train the Mexican children to grow up and come to  my grandchild's country to take his job and he's going to have to learn how to speak their language so that he can work side by side with them as a third world peasant.
I told my grandson, no, you don't let the Mexican children come to your country and make you learn their language so you can communicate with them, because if you do, you are doing their work for them.  Let them work to learn the English language if they want to talk to you.
This is when my grandson told me he knew how to say Merry Christmas in Spanish and that he had learned it from another commie cartoon.  I think it's called Go Diego Go, (which isn't a bad idea).  Now there are a couple of things wrong with this one as apparently you can teach little children to say Merry Christmas in the United States, you just can't do it in English.
And we wonder why this country is so messed up.  Now are you ready to hear the really funny part?  It so happens my sister, who is not a real big fan of this illegal alien invasion, months back tacked a picture on my door which is an enlarged mug shot of Dora the Explorer being booked for illegal border crossing and resisting arrest.
So I say to my grandson, "Did you hear that Dora the Explorer got busted for illegally crossing our border?"  Of course then I had to get out a map and show him what a border was.  When he realized exactly what I was saying, he smiled at me and said, "No she didn't"  I then took him over to the picture, which he'd never seen because it's two feet over his head, and showed him Dora's mug shot and explained what a mug shot was.  To which he replied, "Wow."
Now this is kind of funny but then again it is kind of not funny too.  Everybody out there had better be advised they are going to work on your children in trying to indoctrinate them into speaking Spanish when they haven't learned proper English yet.  This is so after our generation dies out it will seem perfectly normal that all American children speak both Spanish and English.  This is necessary for the communication between the workers.  This is social communism and we allow it to continue to our own detriment.
Don't get me wrong, I am going to watch all the cartoons with my grandson now and he is going to understand exactly how dangerous they are.
People they are coming at us from every angle.  We have got to get this country back on track and we have got to do it by being assertive.  If you see your children or grandchildren viewing this blatant brainwashing, step up, break the trance, and explain to them exactly what it is.  And keep explaining these things to them at each stage of their development because these propaganda programs exist for every age level and into adulthood.
We are going to have to save one another on this one.  I don't know about you but my grandson is going to grow up to be a patriot with a healthy fear and mistrust of his government.  The rest of us had better get to work and take our Republic back and put it back under the laws of our Constitution, which is to say that just like they try to tell us Ron Paul can't be elected, they try to tell us that we cannot deport every illegal alien.  I say yes we can.
God bless the Republic, death to the international corporate mafia, we shall prevail.