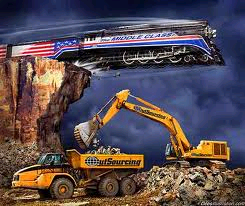 We the American people know what has caused the drastic fall of our country.  And as more and more of us become awake and aware of the fact that our demise was, and continues to be, purposefully orchestrated by those who would enslave us, the elitist think tanks are working overtime to devise a strategy that will allow the status quo to finish us off.
The New Hampshire GOP primaries are coming up tomorrow following two debates over the weekend.  It has become clear that the status quo would like a presidential race featuring Barack Obama versus Mitt Romney.  So why would Mitt Romney be acceptable as the new figurehead for the international insurgency against we the people?

It has been brought up that Romney formed a company that bought American businesses and dismantled them for profit.  What the mainstream media is holding back on is the fact that when these businesses were "dismantled" they were shipped to China and India and reestablished there.  These businesses could have been restructured right here in the United States for a profit, but Romney opted on the overseas move for a greater profit.
Another candidate being pushed by the mainstream as a "good business man" is Jon Huntsman and indeed Huntsman has built a multi-billion dollar business.  Again, what is not being reported in the mainstream is that a majority of his business is in other countries.  The fact is Huntsman's company employs grossly more people in other countries and he, like many other of the corporate elite, wants to bring down the standard of living in the United States simply to cut transportation costs for himself and the corporate elite he serves.
Newt Gingrich is a pompous international elitist who would use the power of the presidency to make our military a private international security force for the elite he would serve without question.
Rick Santorum is a war mongering neo-con lobbyist interested in nothing more than the wealth and power a presidency can bring him.
Rick Perry is too retarded to even take seriously.
Which leaves Obama and Ron Paul.
Obama has shown himself clearly as the leader of a foreign insurgency hell bent on world socialism and to say that he does not serve corporate masters is ridiculous.  Just before the 2010 midterm election, Obama handed 30 billion dollars to the bankers, interest free.
One of his biggest backers in the 2008 election, General Electric, paid zero taxes in 2010, while at the same time Obama and company was handing them billions in stimulus dollars which were used to build plants in China.
Obama has used taxpayer money to take a group of corporate CEOs to China, India, South Korea, and Indonesia for the sole purpose of moving more of our industry to those countries.  A Harley Davidson plant in India and a Caterpillar plant in China are the most recent results of this act of treason.
And of course, he not only signed an executive order giving blanket amnesty to his brother and sister invaders from the south, but signed legislation stripping we the people of our right to complain without fear of retribution from a totalitarian police state.
All of the atrocities listed in this article are up front and in our faces to the point that a vote for anyone but Ron Paul represents a vote for the completed destruction of the United States.