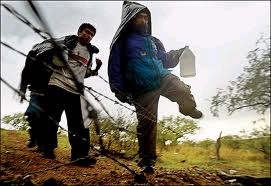 A new immigration bill has passed in Utah mirroring the Arizona law that says that police must check the immigration status of anyone arrested for a felony or a serious misdemeanor.  If the United States was truly intent on enforcing our borders and our laws wouldn't this be a no-brainer?  Would it not in fact be reasonable to assume than any person who could not answer a police officer's enquiries in English just might be here illegally and breaking our laws?
Apparently the Utah law, unlike Arizona's, has included within its body a provision for a guest worker program.  Thus it has won a small bit of favor from some of the immigration groups. 

The immigration groups are composed of legal and illegal immigrants who have made the decision for all of us that every person coming here from south of the border should be given citizenship and every benefit that goes along with it.  And if that comes at the expense of the descendents of those who built this country, well so be it.  You see it is their right as foreign nationals to illegally cross our border and take whatever they want.
It has to be considered a bizarre logic that implies that citizens of another country gain full rights in our country by doing nothing more than breaching our border defenses. 
Wouldn't it have been nice if this same logic had been applied at the invasion of Normandy?  Our troops would not even have had to dress as troops.  We could have just landed them on the beaches, unarmed, under the cover of darkness.  And the next day they could have begun the process of attacking the German body politic in simply voting them out of France.
Make no mistake when 40 million people unlawfully cross the border from one country into another, armed or unarmed, that is an invasion.  And only the traitors in the United States government would treat it as anything less, as it represents not only a transfer of property to citizens of another country from those born here, but also from those who followed our law and immigrated legally to become our brothers and sisters. 
For the sake of all of us who are lawfully in this country, we must stop this invasion immediately or one day soon we are going to wake up in the third world looking with desperate eyes at the Canadian border.