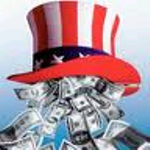 There is an article in April's edition of Reader's Digest titled, "How the Great Recession Changed Us."  Talk about a blatant attempt to polish a turd.  According to the U.S. Census there was an 11.7% increase in the number of households containing more than one family between 2008 and 2010.  But this is a good thing because it makes families become closer.  Of course they don't like each other as much anymore, but they sure as hell are closer.
500,000 people age 35 and older were forced to move back in with their parents, siblings, or other kin in the same time period.  There was an 8% increase in the number of kids who have moved back in with their grandparents from 2009 to 2010, but remember, things are getting better.

827 million boxes of macaroni and cheese were sold in 2010, up 27% over the past five years according to the Mintel International Group.  Macaroni and cheese; here where I live we call that Purina Human Chow. 
From 2007 to 2010 American households lost $11 trillion in real estates, savings, stocks, and including a third of the value of their homes. 
More than 50% of all U. S. workers either lost their jobs or were forced to take cuts in their hours or pay during the recession.  But of course we all know the recession has been over since April of last year and if you believe that I have some beach front property in Arizona I'll sell you. 
In 2008 there were 25 bank failures, in 2009 there were 140, 157 in 2010, and there have already been 25 bank failures in 2011.  If they keep failing at this rate there should be at least 100 more banks that will fail in 2011.
More than 1 million homes were repossessed in 2010.  It is predicted that 1.5 million will be repossessed in 2011.  Things are definitely getting better.
HR 589, which was introduced February 9, 2011, seems all but dead as there seems to be a problem with finding funding for this massive $15 billion project.  Barry Soetoro AKA Barak Obama has turned the excess from the stimulus monies, some $787 billion, into his private, secret slush fund.  In not being secure in just one slush fund, he is busy creating a second one to be funded by cap and trade tax, which is expected to accumulate $600 billion over the next ten years.
Okay, let's add those together.  That's $1.387 trillion.  And what the hey, just for shits and giggles, let's throw in another $20 billion that we will be giving to corporate farms for not growing crops 2011.  That comes to $1.407 trillion.   Divide $15 billion into that and you get enough money to fund HR 589 ninety-three times over.
I have to believe that Barbara Lee, Bobby Scott, and company do not have access to the internet or they would have found these ready sources of funding already.  It was actually quite easy.  The fact is every damn one of them knows about this money and that it is just sitting there, drawing interest, while that low down sleaze bag Barry entertains himself with his daily golf games.  That is every politician out there working diligently to take more money from the have-nots to give to the haves, knows this money exists.  And to say the 99ers can have no relief because HR 589 cannot be funded is nothing short of unmitigated bullshit.
If Barbara Lee, Bobby Scott, and company had an inkling of sincerity in reference to their purported concern for the 99ers they would be throwing these accounts in the faces of John Boehner and company every day and in every way until the bastards were shamed into passing the legislation. 
The existence of these monies and the fact that they are no doubt being held in reserve for buyoffs to insure Barry's reelection cannot be forgotten by we the 99ers, nor any of those who make up the 50% of the working population that has been robbed and abused by these corporate scumbags.
I tell you Barbara Lee and Bobby Scott, considering what you have to know and your failure to act upon that information; you cannot be separated in any way from John Boehner and his friends, or any other incumbent for that matter, who is going to have his or her ass voted out in 2012.  If nothing else, we the 99ers are going to keep every lie and duplicite act front and center right up until the election.  Be assured that come 2012 the 99ers will remember.