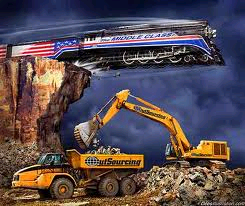 As radiation from Japan rains down on the west coast of the U.S., American war planes prepare to invade Libya, and millions of 99ers continue to suffer the grossest deprivations, King Soetoro and his wife Michelle Antoinette are basking in the sun of Brazil.  
If you think about it, Obama has become so insignificant as a leader in any sense of the word, that we should be wondering what we are paying him for.  If he completely disappeared and no one could find him the only difference would be that our corporate controllers would not be able to claim to be lording over us with any legitimacy. 

I heard it being reported in the mainstream propaganda that we need Brazil.  That's not true.  In all actuality the corporate elite want Brazil's natural resources and cheap labor.  You see they made a lot of money last year and they need someplace to invest it, anywhere but the United States.
Companies in Texas have sold out of Geiger counters which should seem like a good thing in the midst of all the bad in that some American workers might make a dollar or two producing more.  But it is no-can-do as some of the crucial components for the devices are only manufactured in Japan and production there has stopped.
Do you realize that 60 cents out of every dollar the United States spends on defense must by law go to a foreign country?  This is a result of William Jefferson Clinton's treason in passing legislation which dictates the 60% exportation of our military contracts. This has since been affirmed by George W. Bush and now Barak Obama. 
This treason is continuing at two levels. 
Number one of course, Americans are being denied the work in manufacturing our own war machine. 
Number two, should we go to war with any of the countries supplying critical components to our war apparatus, all that country would have to do to hurt us is simply quit sending parts.
Those holding our highest seats of power have been working for our destruction for the past thirty years and right in our faces. 
Considering the Japanese nuclear crisis and our country's subsidies for nuclear energy, I think it should be noted that during the Clinton administration, Bill, Hillary, and a bunch of their friends bought up large shares of soft coal reserves in Indonesia.  Afterwards, Slick Willy used his office to make a large part of Utah's desert a national park. 
You see this national park holds the largest soft coal deposit on the planet and after Clinton put it off limits the stock he and his cohorts held in the Indonesian deposits went through the roof.  The Clintons and their friends made billions while the people of the United States were left to subsidize nuclear energy.
99ers every day we have less to lose and more to gain as I think our enemies fully intend to take our birthdays away in the end equation.  I see more people on the site taking up the cause of the Easter Project.  If the 99ers can accomplish this one feat I believe in my heart it will be a stepping stone towards our redemption.
Don't spend all day thinking about it, just do it.
God bless the Republic, death to the international corporate mafia, we shall prevail.
All of the projects we are working on are listed at the top right of this page.