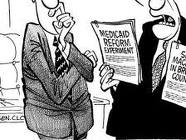 The job situation is getting better.  The job situation is getting worse.  The job situation is staying about the same.  It is hard to know what to believe anymore or at least it was until I heard a brand new idea for Medicaid reform.  Check this out.  Make all the people receiving Medicaid work for their benefits.
You have to love these neo-cons and their inter-dimensional logic. They purport to be the anti-thesis to the social communists, but are quick to advocate work for welfare.  Is this not communism?  Not to mention the fact that while they are admitting that there are no jobs they seem to be purporting that there is plenty of work if the compensation is Medicaid.

How about this, you neo-con pig?  If there is all this work out there, how about we perform the labor FOR MONEY??!!  Then, not only will not need Medicaid, but we can actually spend the money we make on whatever we choose.   You know, that free market bullshit that you are advocating every day.  Or is that just a free market for the filthy rich with the rest of us laboring in servitude for room and board?
This is just the proof in the pudding for what we have been saying all along.  There is no left.  There is no right.  There is just the elite wanting to rule over us as slaves in a one world international communistic dictatorship enforced by a one world corporate police state.
Well let's see……nah, I'll pass.  I think I'll just have my Republic back under my Constitution.  Hey, here's an idea.  Maybe we poor people can serve as the jurors at your trials, as a compensation to the taxpayers for the money they have had to pay to feed us and provide us medical care, as a result of your theft of everything we worked for thirty years to accumulate.  I think they call this poetic justice.  But hell, its justice, I'll take it.
I guess the bottom line here is there seems to be no bounds to the unmitigated gall being shown by these thieves in kicking their victims while we are down.
I'll tell you what neo-cons.  Live today for today as no one knows what tomorrow might bring and every dog has its day.  And we, you have treated like dogs, are going to have that day, when you will be forced to recognize the extent of the hate and contempt you have built up in us towards you.
It's going to happen and there is not a damn thing you can do to stop it.  Thanks to modern technology, this world has become a little place where you are not going to be able to hide.  We are going to whip out our $5.5 million nuclear arsenal we have bought and paid for and politely but sternly demand that any and every country you flee to hand over our wealth and you for prosecution.
Think about that tonight as you fall asleep on your mattress stuffed with our stolen money.
God bless this Republic, death to the international corporate mafia, we shall prevail.