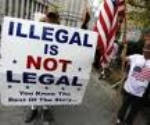 Alabama's legislature has passed an Arizona style immigration bill which is now awaiting the signature of Governor Robert Bentley.  The bill was passed on votes of 67-29 in the House and 25-7 in the Senate.  The new law will allow for law enforcement to investigate the legal status of those they reasonably suspect of being in the country illegally.
It will also make it a crime for an illegal alien to apply for a job in the state.  The law will also require all employers to use E-Verify to establish the citizenship of all applicants.  Sanctuary cities will be outlawed.  Further it will make it a crime to transport and or harbor illegal aliens.  And I like this one best of all.  Any business twice convicted of hiring illegals will lose their business license.
Of course the American Civil Liberties Union is threatening to file suit if the governor signs the bill into law and this is an outrage.  How dare an organization operating tax free in the United States assert that people who have crossed our borders illegally and are in fact invaders have any rights at all in our country, let alone any rights that supersede our rights as United States citizens to be secure in our property (jobs, economy, and tax dollars) against unlawful seizure, because in reality these thing are being seized by the illegals.
They are foreigners breaching our sovereignty and violating our laws, coming into our country and seizing our welfare, our food stamps, our housing, our jobs, and our future.  And they are being assisted by insurgents that have been planted in our highest seats of power.
The list of states putting forth Arizona style legislation is growing day by day as Americans are showing their outrage at having their jobs and livelihood stolen during a time when our own people are going hungry in the streets and in tent cities.
These are natural born Americans who have worked all their lives and are now having to watch as people who cannot even speak their language swarm over our southern border and take everything they have worked for and paid into, as they, as legal citizens, are being denied the basic necessities of life in their country which is in fact their property.
I think we had better be watching real close when these ACLU cases come to trial as there will no doubt be an effort by the foreign insurgents in our government to stack the juries with their fifth column sympathizers.
I am glad to see the states finally taking action.  I guess they are beginning to think about what could happen if they continue to ignore those who conquered this continent.  I look forward to the day that every state has passed the Arizona style law and the traitors in our federal government are facing each and every one of us and our retaliation if they dare try to tell us, "No you can't."
Here is one for you Mr. Soetoro, "Yes we can seal our borders.  Yes we can deport every illegal.  Yes we can punish the rich corporations who are supporting this invasion.  Yes we can declare that no one is coming here to work our jobs on visas.  And yes we can enforce our rights as legal citizens of the United States."