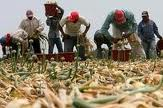 Apparently Georgia farmers are singing the blues as their state is now implementing and enforcing their new immigration law.  You see these farmers can't make a profit without the use of labor provided by illegal invaders.  One farmer being interviewed said he had lost 70% of his work force due to the illegals' flight from Georgia to avoid prosecution.
What I would like to know is why that farmer isn't sitting in jail right now facing the prospect of losing everything he owns as he has admitted to blatantly violating laws that forbid the hiring of illegals.  I have no compassion for any of these people.  They grew their businesses at the expense of the rest of the people in the United States who have had to supplement their illegal work force through welfare, food stamps, and Medicaid.  And of course we have had to pay to educate the children of the illegals working for them.  I hope every one of them loses everything they own and that should be the least of their punishment.

No doubt it is the big corporate farms in Georgia who are behind this whine fest as they may now actually have to pay more out of their grossly inflated profits to the American laborers that they will have to hire to maintain and harvest their crops.
Of course the Governor of Georgia has come forth to offer prison inmate labor to help these poor corporate farmers.  Well, slave labor by any other name I guess, as the ultimate goal seems to be fat profits for the federally subsidized farmers at any cost.
I have to believe that there are a lot of industrious Americans out there that would love to cut up these big corporate farms and turn them once again into small family farms whereon an honest family can make an honest living without any help from the government.  In fact these small farms will thrive once we have taken back our government and ran all the corporate elite middlemen into the sea.
Anyway, here is my salute to the 21st century plantation owners in Georgia that just lost their slaves.  Waah.