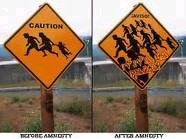 The mainstream news is being inundated with traitors pushing for amnesty for the 40 million invaders from the south.  Representative Linda Sanchez (D) CA was on MSNBC trying to tell the American people that we need these invaders as they are the glue that holds our neighborhoods together.  She is a member of the Hispanic Caucus that procured a meeting with President Obama this week. 
How can people from another country, who have broken our law coming here, have more power than the American citizens?  Every member of this Hispanic Caucus is an insurgent and our government is selling out literally to the lowest bidder.  The Mexican third world is conquering and taking the United States like Grant took Richmond. 

The people of the United States should be rising up and going out into the streets and into the countryside and physically removing these invaders.  Has it come to the point where the legal citizens of this country are being told that their laws will no longer be enforced and that their property is going to be handed over to a bunch of third world peasants who just walked over the border and put their hands out? 
This is an outrage and it is absolutely criminal.  The American people should be forming mobs and going to Washington DC and dragging these Mexicans who have infiltrated our government out of their offices, put them under citizen's arrest for constructive treason and insurrection against the United States, and take them to jail and demand that they be held and prosecuted.  And if those running the courts and jails refuse, put them in jail and pick a new judge and jury out of the crowd to prosecute and punish these traitors.
I am so outraged by what I am seeing on my television.  Have we the American people become so spineless that we will allow ourselves to be run over by Mexicans whose forefathers our forefathers decisively chastised in two wars? 
Impeachment proceedings should be put into motion against Obama for aiding in a foreign invasion and insurrection against the United States. 
This is blatant treason out in the open for all to see.  It is not only our right but our duty to expel Obama and his Mexican peasant army.  It is insanity to call an illegal alien an undocumented worker.  Why don't we just call murderers "misunderstood life relievers"?
What Obama and his alien army are doing is not only a crime but it is an international crime.  We must stop these foreigners and we must stop them now.  After which we must pass strict laws that say no one may serve in any government position unless they are natural born to two American parents who have been naturalized and have lived in the United States for twenty years. 
I will not believe that any Americans of Hispanic descent support this invasion.  If they do they should realize they are cutting their own throats and are not deserving of anything America has to offer, as they are putting a foreign country before that which they are claiming as their home, which would make them foreign traitors by definition and in need of deportation along with the rest.
Is Obama desperate enough to start signing executive orders in order to make it possible for citizens of another country to vote him back into office?  My fellow Americans we must stop this and stop it now.