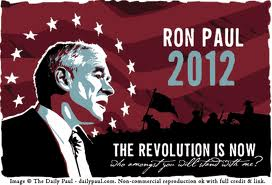 The question has been raised as to how we know Ron Paul will not betray us once we elect him president.  Well we certainly have every reason not to trust any politician and I cannot say for an absolute fact that Paul will not betray us.  What I can say is that I have followed Dr. Paul and his activities for the past ten years.  His message has always been the same:  We must end the Fed, stop the theft, and reinstitute our Constitution, or our country will fall.
And it is only now that our country is on the brink of destruction that the rest of the people of the United States have come to the realization that it has never been a lack of laws, but rather a refusal to enforce our most basic laws.

When an issue of inequality comes up it's always, "Let's make a law", which then creates a double standard and a new inequality on a different level.  Our founding fathers were not fools and they looked long and hard into the future before writing our Constitution.  It is not their lack of foresight that has brought us to the brink of destruction, but rather our lack of understanding and due diligence when it come to our individual responsibility to one another in enforcing our rights.
Be advised, those still stupid enough to believe the tripe coming out of the mainstream media only make up about 20% of our population.  The mainstream propagandists are not going to decide this next election.  Times have gotten so hard that our people have realized that they have been betrayed and are looking for a solution.  In doing so, they are reading and interpreting the Constitution for themselves and they are seeing just to what degree treason has become dominant in our government, which consists of corporate employees.  They can be called nothing else.  They go from working in our government, to working in the private corporations that control our government, back and forth throughout their lives.
I come from a very old family in this country and can trace my lineage on both my mother's and father's side back to the colonies.  In short, there are a lot of us.  This website is not my only contact with the outside world.  I converse with people all over this country from all walks of life and they are all saying the same thing.  We have got to elect Ron Paul and get our Constitution back or we are finished.  In short, the silent majority is not going to be silent anymore and we are not going to be swayed by the petty attempts of the propagandists to convince us that Ron Paul cannot be elected.
People who thought me so radical three years ago that they feared keeping my company are now walking up to me and saying, "Henry, I'm sorry, you were right.  I've been a damn fool."  This is happening every day, everywhere.  Hell, I was at the post office and I mentioned something about Ron Paul to the fellow behind the counter.  Not only did he voice his own support but the people in line behind me started chiming in, and there was a definite consensus and that consensus was, "I don't care what anybody else does, I am voting for Ron Paul because I think it is our last chance."
One person on the site talked about the fact that there was not a revolution when the 2000 election was stolen from Al Gore by George Bush.  To that I say Al Gore didn't have 40 million heavily armed Americans behind him who are fed up with the lies, fraud, theft, and blatant in-your-face treason.  Two-thirds of our population has reached the point to where we feel that our backs are up against the wall.  We believe Ron Paul is the last chance for a peaceful resolution to the situation.
Now we will find out if they really want to fight us or not.  We have refused to riot because Americans do not riot.  We feud and our feuds can get out of hand like they did during our last Civil War.
They will continue to pour on the propaganda, Casey Anthony Weiner Boehner Sodom Husain Barack Obama Osama Bin Laden Gaddafi Yemen Netanyahu and impending doom around every corner if we do not do exactly what they say.  They know they are failing and that the majority can see right through them like a new pane of window glass.
We will take this country back in 2012, or maybe sooner if they decide to do something stupid, like shoot a woman in the head while she's holding her baby, or a fourteen year old boy in the back, or burn a bunch of children to death in a church, or blow up or fly planes into any more of our buildings.
Be advised there are millions in this country ready to take this fight to the wall if they attempt a false flag and/or the murder of any more of our innocents.
As for the 20% who are still brain dead enough to believe anything coming out of the mainstream propaganda machine, understand, we the majority of the American people of the American race are sick of living with the decisions of stupid people and we are going to have our Republic back under our Constitution.
God bless the Republic, death to the international corporate mafia, we shall prevail.